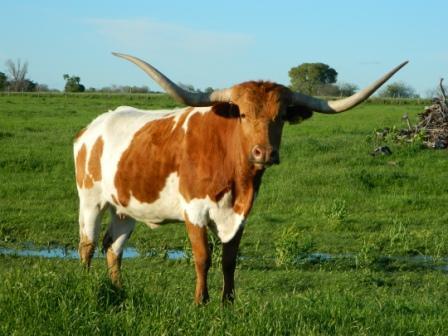 Click on Picture for 5 Gen Pedigree
Lazy J's Cherry Pie 11-04-05 (Guardian x Sweet Potato Pie) 71" TTT 08/01/13 NFS

**Heifer Calf born 10-08-13 from DNA Quantum Slam**
Cherry Pie came to us from the heart of Joe Sedlacek's program. He has raised 3 Top End daughters from her. She combines what I love in a Texas Longhorn... Size, Disposition, Color, Amazing Horn and big beautiful offspring. Joe Sedlacek advised I breed her to a Gunman based genetic package... I cannot wait to see the outcome of DNA Quantum Slam (5 x Gunman).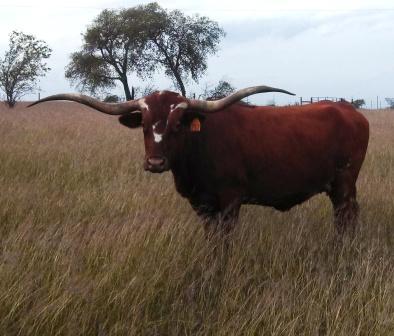 Click on Picture for 5 Gen Pedigree
M Arrow Susie Q 09-07-07 (J's Overdrive x Oversoon) 69 1/4" TTT 03/11/13 $10,000.00

AI'ed to WS Jamakizm on 02-06-13 for a November 2013 calf

**Susie gave birth to an amazing bull calf by WS Amazon on September 24, 2012** Susie came to us from the heart of Ron Marquess Longhorns with a little help from Danny Phillips. She has a pedigree that shouts 'HORN PRODUCTION'. Two times Overlyn, J's Overdrive, Overhead and Headliner to mention a few.

Picture 11-27-13

DH Oh Deer 03-20-02 (Wind Chill x Spotted Deer) 62" TTT 10/19/12 $1,800.00

Exposed to DNA Quantum Slam for a Fall 2013 calf.
**Deer brought to us an amazing Heifer by WS Amazon on August 25, 2012** Oh Deer has been a tremendous asset to our breeding program. Her mother and her both will adopt any calf that is not getting all they need and allow them to nurse with their calf. All this without letting her own calf suffer. Her twisty horns are a marvel to view.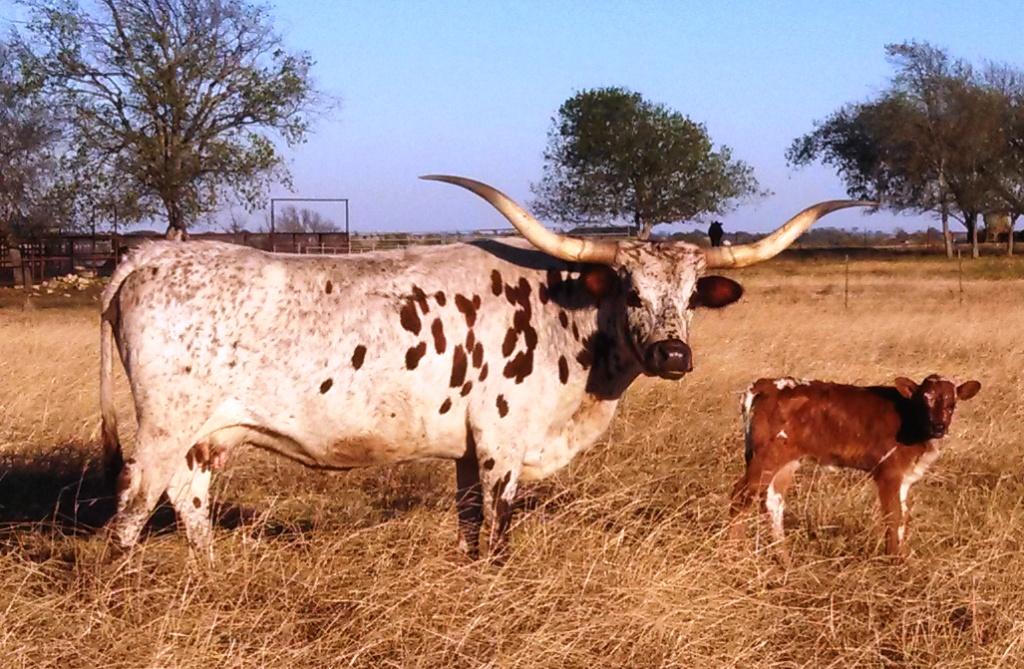 Pictured here with her 2013 WS Stardom Heifer
Hubbell's Bonita Kay 05-06-05 (VJ Tommie x Hubbell's Shadow Kay) 67 3/8" TTT 05/04/13 $5,000.00

Birthed a WS Stardom Heifer on 11-17-13
Mark Hubbell was generous enough to offer this unbelievable Texas Longhorn to me to improve the genetic packages here at DNA Longhorn Ranch. Bonita is a quite, easy going lady that produced many great offspring. I went to the books to match up her 'DNA Horn Packed Genetics' with another for the Fall of 2013 breeding. When Tom Smith offered his tremendous Horn Producing/Genetic Goldmine WS Stardom... I knew I had the perfect DNA combination.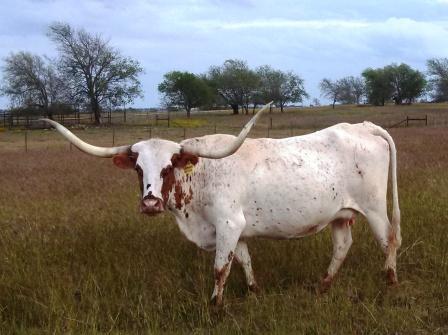 Picture 11-04-13
Power Wish 04-22-05 (Over Power x Starwish) over 67" TTT 09/13/13

Power Wish came to us from the John Stockton and Bill Burton Herd. They have kept three (3) heifers from this genetic goldmine. She combines the Incredible Proven Genetics of Over Power, Lobbyist, Overlyn and Dode's Blue Boy.