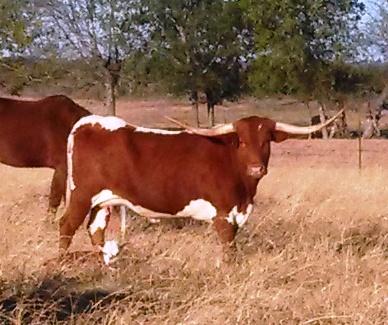 picture taken 11/27/13
DNA Gentle Deer 09-25-10 (Hubbell's Easy Rider x DH Oh Deer) 55 1/4" TTT 05/04/13 NFS

On 11-27-13 birthed a JH Jet Eye Knight Heifer calf.
Deer is an amazing 'DNA' packed heifer. Combining the known horn production of an JP Rio Grande son (mother is Gunman's Lil Sis... full sister to Gunman) and the twist genetics of Dale Hunts DH Oh Deer. I look forward to watching this combination. I am now going to add more twist with JH Jet Eye Knight. This will bring another shot of JP Rio Grande, VJ Tommie and Mazue To Bl. Cannot wait for the results of this planned mating.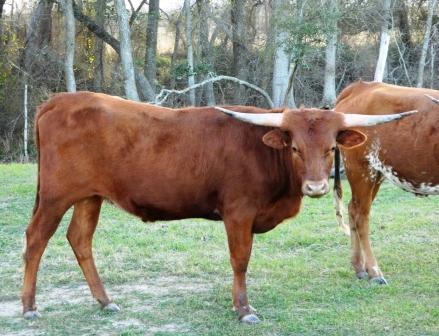 DNA Rio Grand's Princess 09-15-11 (JP Rio Grande x Indian Princess 102) 36 1/2'' TTT 12/16/12 SOLD Thank you Ben Garner for Believing in The DNA Program
Exposed to WS Stardom for a Fall 2013 first calf
Imagine crossing the known Horn Production of JP Rio Grande with the hybrid Butler cross of Indian Princess 102. She combines the great names in Butler breeding: 2 x Katz Meow, Maressa, Ace's Conquistaroan and Dixie Ace to mention a few. Now add JP Rio Grande. Her potential to produce top offspring is there. She is being exposed to WS Stardom (Tejas Star x WS Spectrum) for a Spring 2014 calf. What a pedigree that calf will have.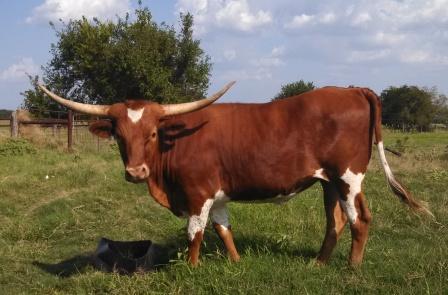 Picture taken 07-05-13

DNA Foxy's Boogie 10-09-11 (DNA Temptations Boogie x DNA Working Foxy Lady) 47 1/2 TTT 08-01-13 $2500.00

Exposed to JH Jet Eye Knight for a Late Fall 2013 or early Spring 2014 calf.
DNA Temptations Boogie did it again. With more flash this time and the early hooks on the horns. Boogie's a fantastic heifer with the body, color and early hook backed horns I breed for. Her calf by JH Jet Eye Knight will be something to look for. Combining 2 x Lamb's Temptation, Working Man Chex, Working Woman (80"), JP Rio Grande (80"), 3 x Gunman, Coach, Monarch 103, 2 x Bet I Can and 2 x Phenomenon. Now is that a Star Studded pedigree or what?

Picture 11-27-13
Robin Leigh 04-02-11(Feisty Lee Jr x Watson 644)