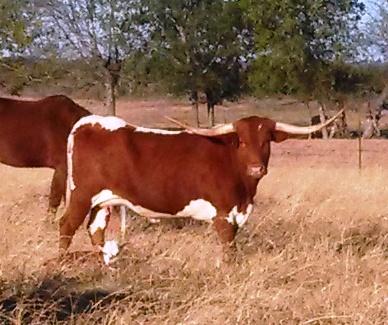 picture taken 11/27/13
DNA Gentle Deer 09-25-10 (Hubbell's Easy Rider x DH Oh Deer) 61 1/8" TTT February 2014 NFS

On 11-27-13 birthed a JH Jet Eye Knight Heifer calf.
Deer is an amazing 'DNA' packed heifer. Combining the known horn production of an JP Rio Grande son (mother is Gunman's Lil Sis... full sister to Gunman) and the twist genetics of Dale Hunts DH Oh Deer. I look forward to watching this combination. I am now going to add the known Horn Production of DNA Quantum Slam. This will bring 5 x Gunman, Kobra, Starlight, JR Grand Slam and JP Grand Susan 2. I cannot wait for the results of this planned mating.

Picture 11-27-13
Robin Leigh 04-02-11(Feisty Lee Jr x Watson 644) 58 1/2" TTT February 2014
Confirmed Bred for a June 2014 calf by Allens Challenger (JR Grand Slam x SR Dixie Cherry)
Rex Mosser allowed me to add this amazing genetic package to the DNA Arsenal. Combining the known Horn Production of Feisty Lee Junior (2 x Feisty Leigh) and the proven production of the Wes Watson program Watson 644.. She is currently bred for a June 2014 calf.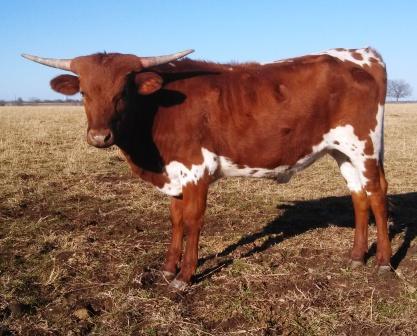 DNA Amazon's Red Dawn DOB 12-10-12 (WS Amazon x KT Red Dawn) 40 1/2" TTT May 2, 2014 NFS
When Tom Smith allowed me to utilize the Top Genetics of WS Amazon I knew I had a winner when KT Red Dawn birthed a Heifer. Combining the well known genetics of WS Amazon with a longhorn that boasts Working Man Chex, Working Woman, Stockanna definitely will work to create a DNA Loaded pedigree. I look forward to watching her grow and perhaps I will enter her in the upcoming Fall TLBAA Horn Showcase 2014.